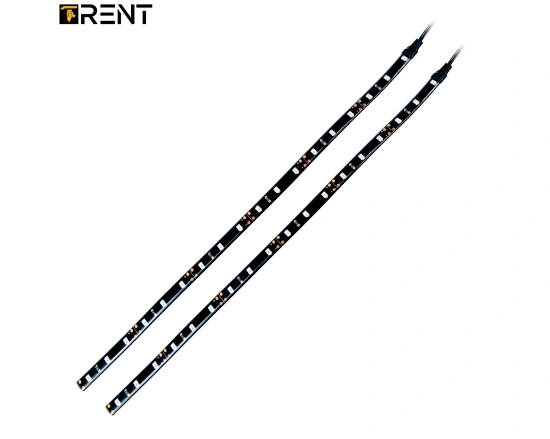 3528 24''LED Accent White Strip Light
3528 24'' rgb led strip lighting
The Trent rgb led strip lighting has a flexible 5050 LED strip light that can be placed wherever you want. A great way to create a relaxed and romantic vibe when traveling with family or lover.
---
Feature:
【Perfect Size】
Length: 30.5cm (12inch)
Cable length: 150cm - There are two welding points at the end of each rgb led strip lighting, you can lengthen it according to your requirements
【Waterproof】
The rgb led strip lighting is covered by waterproof silicone, so it can play a waterproof role, even if it is rainy, it will not affect the work, can be used both interior and exterior.
【Easy installation】
Flexible and can bend to any shape and anywhere, Self-adhesive 3M tape for easy application. Used for Car Truck Motorcycles Boat Auto Led Atmosphere decoration light strip for footwell, front grille, rear trunk, under car body, etc.
【Cuttable】
Using 18pcs high-brightness 5050 lamp beads, this looks very bright. You can cut it into a light strip with a group of three light beads according to your needs. It still works, but you need to solder the wires for the new strip.
【Package Included】
2-PCS 30CM 5050 18SMD White car 12v DC rgb led strip lighting, Low power consumption, long service life.
Product detail:
12'' (30.5cm) 3528 * 18 rgb led strip lighting-WHITE (2 Strips/set)
1.LED: 3528 LED*18, Sanan 2.8~ 3.0V/20mA
2.Flexible PCB Board *2
3.Epoxy: PU (grey scale: 4~5), IP67 Waterproof, 2 years anti-yellowing
4.Battery box: PP, Black
5.Try Me Switch:Plastic, Iron
6.3M tape#: 4229P
7.Battery Type & Specs:  1PC of L1028 12V/23A (55MAH, Ø10.1*28.2mm)