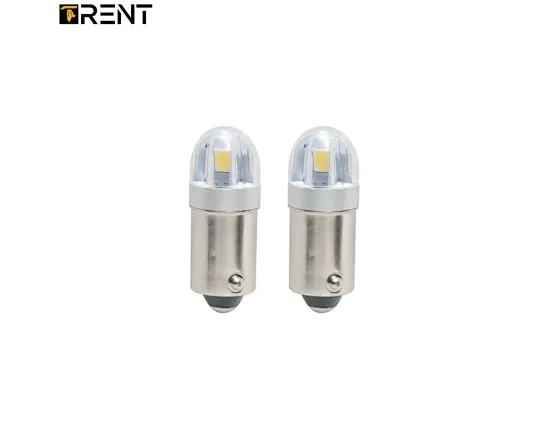 Bullet LED BA9S Replacement Bulb
Bullet BA9S LED Automotive t10 replacement bulb

"Bullet"BA9S t10 replacement bulb are newly developed by TRENT for high quality and high brightness (more than 80lm per bulb). We offer a 1 year warranty on the existing elegant blister packaging design (see first drawing above), which means you can simply start your business with us.


 

TRENT's Advantages:
As a manufacturer, there is no middleman cost, get competitive price.

With professional R&D, we are able to develop products based on your need.

TRENT is the SEDEX approved manufacturer, and long term supplier of US O'Reilly, Walmart etc., very trustable.
We only focos on high quality market, make 4 hrs age test for every bulb before packaging.


Why Choose Bullet t10 replacement bulb?

1. 200% Brightness VS OEM bulb
We adopt powerful SMD3030 LED chip, with 0.5W power, project 200% brightness of OEM BA9S t10 replacement bulb.

Almost 360 degree illumination, no blind angle.

2. Long Lifespan
Strict temperature control design. Ensure the safety of LED chips, not easy to burning out or decay the brightness.
High standard in raw materials purchase. To supply the best quality products to our customers, TRENT keeps high standard in purchasing.
100% bulbs age test with 4 hrs. Before packaging, TRENT will make 4 hrs age test for every bulb. That makes sure every bulb is perfect in our factory.

3. Easy Installation
Plug & Play design. Just simply install t10 replacement bulb into vehicles.
Mini bulb dimension. Bullet BA9S t10 replacement bulb can be installed into any vehicles.
Non-polarity circuit. No need to check polarity before installation.