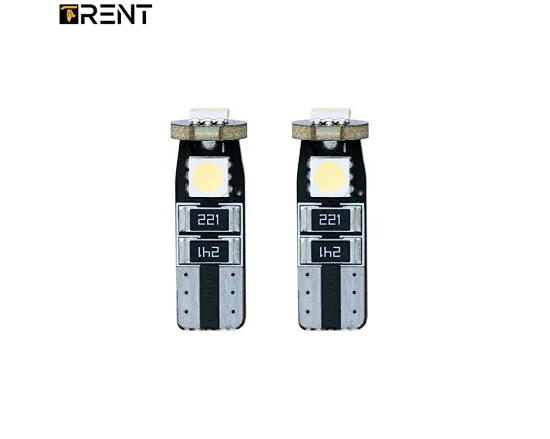 CANBUS T10 W5W Bulb 5050LED*3
TRENT LED CANBUS 5050LED*3pcs LED t10 w5w bulb

5050 LED t10 w5w bulb has super bright high power 6500K white, each LED bulb is around 300 lumens, more than 200% brighter than halogen/incandescent lamp, specially designed for replacing led interior lights, dome lights, trunk lights, license plate lights, etc.


About TRENT
TRENT was established in 2010. And for over 12 years, our focus has been always on LED lighting solutions for vehicles. So we are a one-stop supplier of App Smart multi-color decorative lighting, Truck lighting, and also Automotive LED illumination replacement bulbs like headlight bulbs, Fog light bulbs, Signal bulbs, t10 w5w bulb, etc. 

We are manufacturers.
We have a strong R&D team and ability.
We can provide customized services for what you need.
We are a supplier to Wal-Mart.
we are also a SEDEX certified manufacturer since 2017.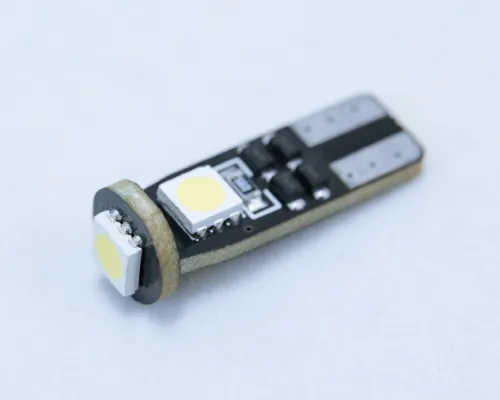 Why choose the TRENT LED t10 w5w bulb?

[Extremely bright] 
LED t10 w5w bulb with 3 pieces of high power smd5050 LED chips, 360 degrees of light, no blind spots, at least 3 times brighter than halogen bulbs, providing pure white super bright light output for your car.

[Error free]
No flicker or error codes. Upgrade electronic element for long Lifespan, fast heat dissipation, and low power consummation.

[Wide application] 
The 5050 LED t10 w5w bulb can be used as an Interior light, Dashboard light, Side indicator, Front position parking light, etc.

[Excellent cooling funtion]
Aluminum body design, efficient heat dissipation, and stable lighting performance, low power consumption ensures over 30,000 hours long lifespan.




Specifications:
Product: 5050*3pcs LED CANBUS t10 w5w bulb

Kevin: 6500K

Color: White

Voltage: DC12~24V

Lumen: 200Lm/bulb

Current: 0.3A +/-0.1A   

Guarantee: 12Months

LED: high power * 3/per bulb

Package: 2 bulbs as DBBC package

Application: 

Interior light, Dashboard light, Side indicator, Front position parking light, Trunk light, License plate light, Door light, etc.