Car Headlights - When to Use and When Not to Use
2023-03-20
Maybe it seems simple - good light is always a good thing when driving, right? While the standard is that more light can improve the visibility of other drivers and non-drivers on the road, in some situations, using headlight bulbs may not help as much.
Improve headlight bulb function
First things first - when considering your headlights conversion kit as a safety feature, maintenance is an essential one. Headlight conversion kit need to be checked and cleaned regularly; otherwise, they won't help you or others on the road maintain an optimal level of safety.
When must the headlight bulbs be on?
Make sure to turn on your LED headlight bulbs at night. Consider using your main high beams on unlit roads so you can see what's ahead and people and animals on the road can see you coming and have time to get out of the way. Always use low beam LED headlight bulbs when oncoming traffic approaches your vehicle so as not to block the view of other drivers.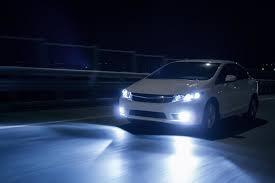 How should headlight bulbs beused in bad weather?
Whenever there is heavy rain or snow, the visibility of your car and objects on the road will be reduced in adverse weather conditions. The light shines through rain and snow, alerting others on the road of your presence. Here are some tips for driving in bad weather:
Avoid looking directly at oncoming headlight bulbs - this can distort your vision and distract you while driving.
Do not shine high beams on oncoming cars, as this can impair your vision and that of oncoming drivers, increasing the likelihood of a collision.
Keep in mind that extra weight in the rear of the vehicle may increase the angle of the headlights (in newer models you may have a feature to compensate for this).

When should I avoid headlight bulb?
In some cases, high beams can actually make it harder for you to see what's ahead, or distract other drivers. Here are a few situations in which headlight bulb should be avoided:
If you stop, turn off your LED headlight bulb and be considerate of other drivers. Your headlight bulb may be distorted where other drivers can see or see them.
Do not use high beams in fog. You can create a nearly invisible wall of light. Instead, use LED headlights or fog lights, which can be seen from farther away in foggy conditions.
During the day, opt for LED drls (daytime running lights) instead of headlights for better daytime visibility. LED DRLS are specifically designed to have the proper brightness and are placed on your vehicle to make your car visible rather than brightly illuminating what is in front of you.
Headlight bulbs for use in dark and stormy conditions
In general, it is best to use headlight conversion kit at night and during heavy rain or snow. If you are parked in a parking lot, please turn off your headlight bulb for the safety of nearby drivers. Low beams are required for driving in fog, and LED DRLS can be used instead of halogen headlights for daytime driving.