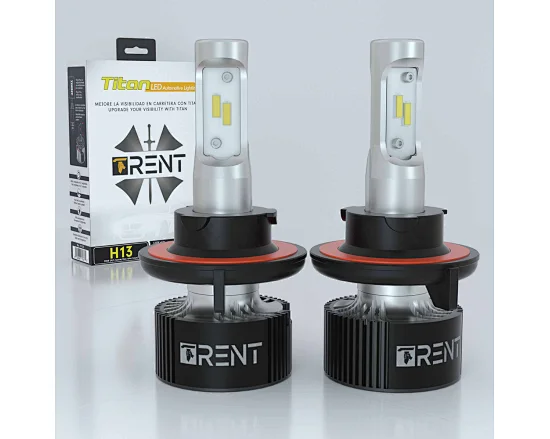 Titan H13 LED Headlight Bulb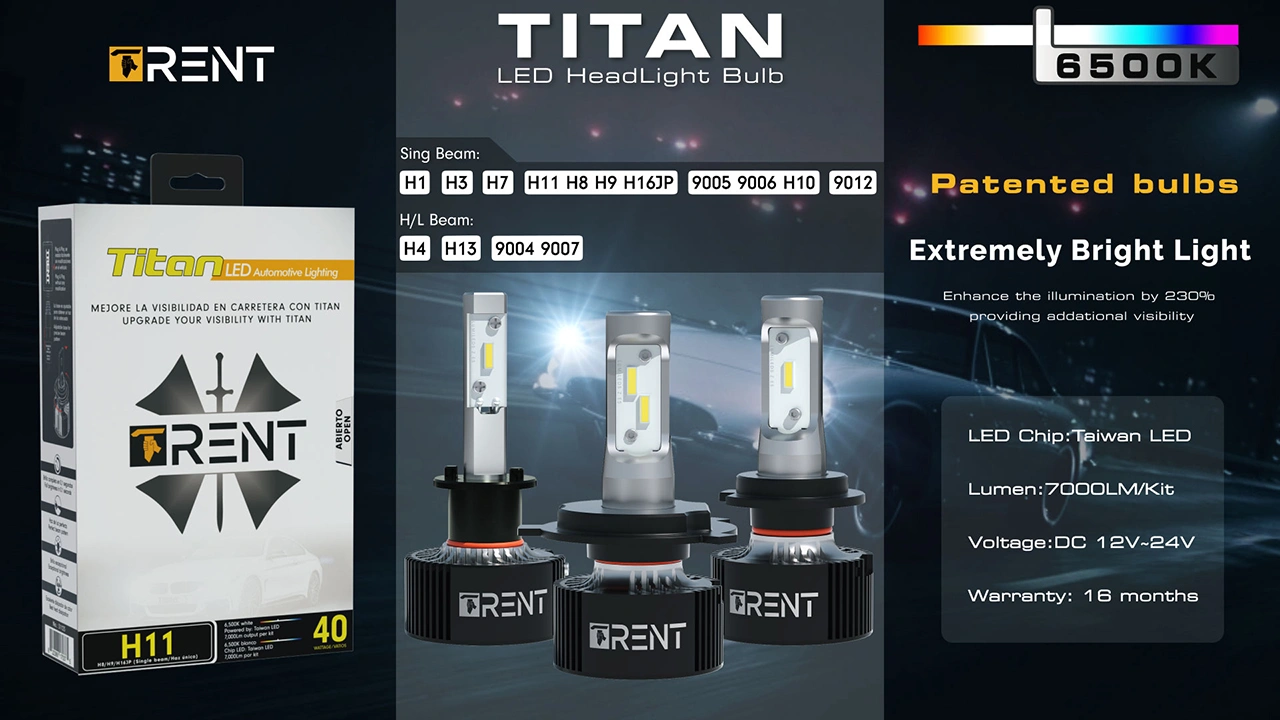 Super bright, Super white, Super durable

TRENT Titan led headlight conversion kit equipped with a proprietary Taiwan high-power LED chip, which realizes 300% brightening and 6500K cool white light. Excellent thermal management design for durability.
 
Main advantages of led h7 headlight bulbs
● High Brightness: We use 40W high power and ETI LED from Taiwan, so that Titan led h7 headlight bulbs provides 7,000Lm/kit, 300% brightness vs OEM halogen bulb.    
● Long Lifespan: With 50,000hrs cooling fan, copper PCB and temperature control system, LED chip working temperature always in reasonable range, the defective rate will be extremely low.    
● Sustainable Brightness: Because of exellent cooling system, LED chip light decay is very slow, so Titan's brightness almost no falling down even after 1~2 years working.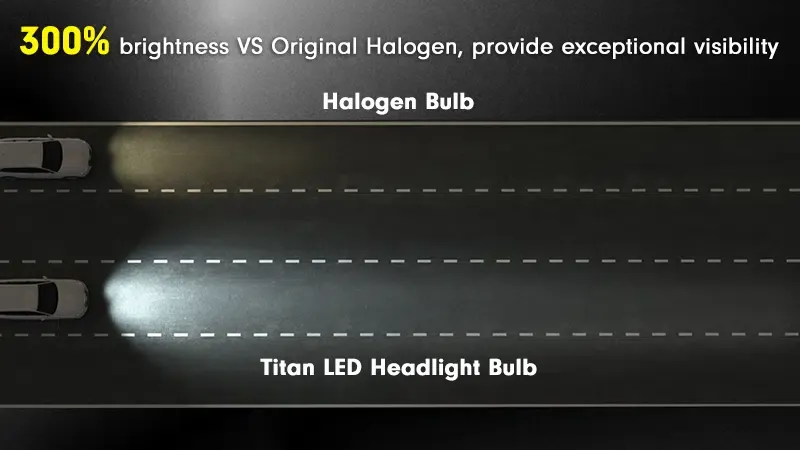 Incredible Brightness

Titan auto headlight h13 bulbs conversion kit is specially developed for brightest light performance, provide much clear visibility to drivers, greatly improve the driving experience and safety.

How to get the extreme brightness?
●Titan adopts preminum quality high power LED chip, 19W/LED.
●Trent Titan led h13 headlight bulbs design is good at heat disspation, uses high speed cooling fan, copper PCB, largest aluminum sinks surface.
●Based on the above 2 factors, Trent can set 40 wattage power for Titan led h13 headlight bulbs, so is able to project 7,000Lm/kit super bright light.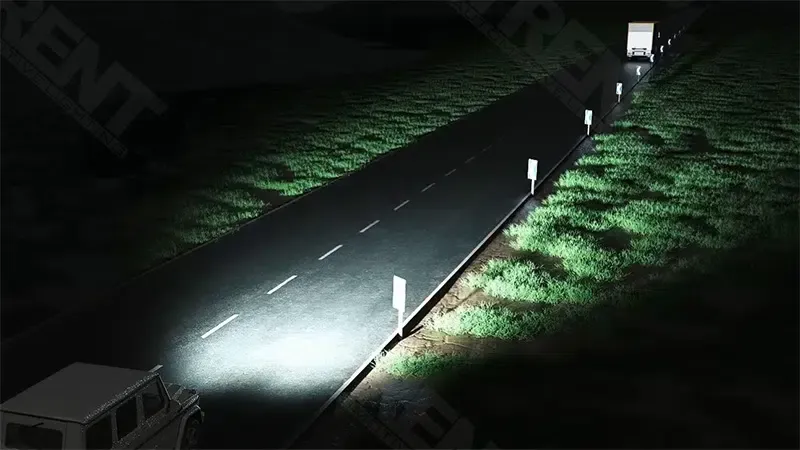 Enhance Your Driving Safety

Trent Titan led h13 headlight bulbs are able to greatly improve your driving safety, because it has high brightness output and very good beam pattern.

Why Titan can enhance your driving safety?
● 7000Lm is extremely bright light, it greatly increases drivers' visibility, so that drivers can see further and wider area, makes their view to be more clearer.
● With good beam pattern, the bright light won't dazzle the opposite drivers' eyes, greatly decrease the accident risk when 2 vehicles meet with each other.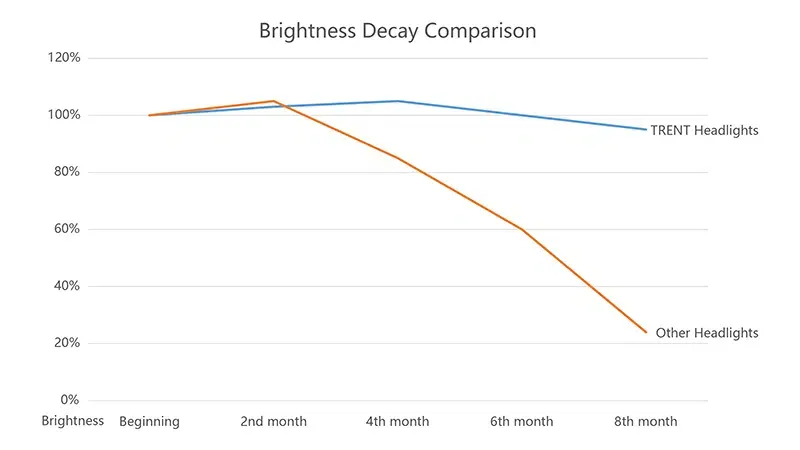 Sustainable High Brightness

The real excellent auto headlight h13 bulbs is not just extremely bright in the beginning, but forever. Trent h13 headlight bulbs conversion kit's light brightness decay is ultra slow, will be more than 80% brightness over 1 years working. Other general quality high brightness bulbs' brightness will keep falling down fast after 2~3 months, and very weak after half year.

Why is sustainable high brightness important?
If headlight brightness fall down fast, the bulb can't light up front area clearly and distantly, then drivers' visibility will be very weak and narrow, this is very dangrous for driving safety (even if the headlight bulb is still working).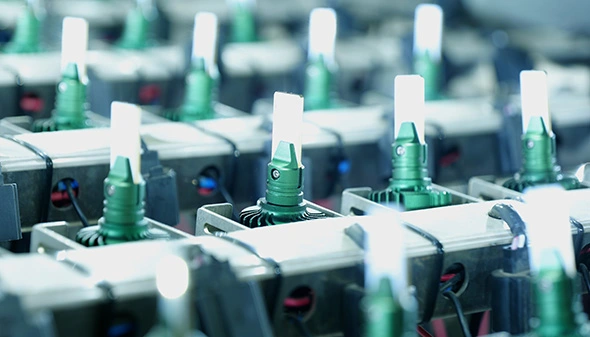 4~8hrs Aging Test For 100% Bulbs

Trent uses strictest standard to produce products, 100% bulbs have to be processed with 4~8hrs aging test before packing. Other factories (even big company) only do this test partly and randomly for 1~2hrs.

Why are Trent bulbs so durable?
● Perfect temperature control system with powerful 50,000hrs life cooling fan.
● Best heat dissipatioin materials: Copper PCB, Aviation aluminum parts (with maxium aluminum grooves surface).
● Vacuum reflow soldring technology for PCB and LED chip, over 98% connection rate, heat can be released out from LED efficiently.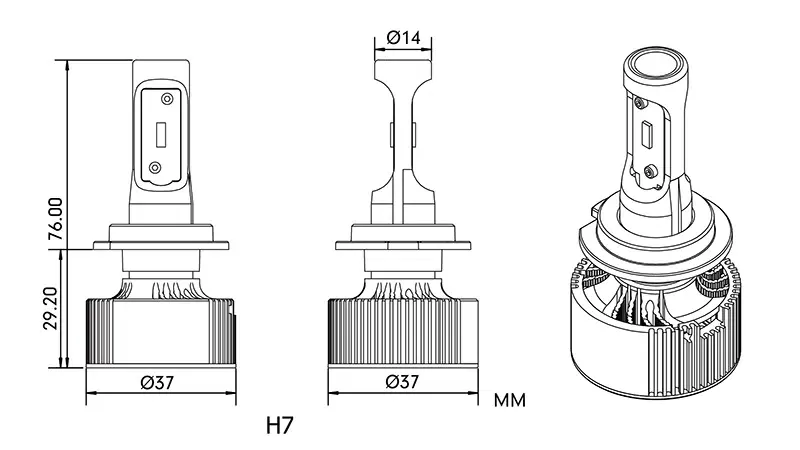 Plug & Play, Easy Installation

Titan h13 headlight bulbs have enhanced driver box (better CANbus), smaller dimension, no need any modification to installation, completely plug & play.

Why is it easy installation?
● Smaller bulb size, only 88.5*Ø37mm (3.5'*Ø1.45′) for H13 9004/9007 bulbs, can be installed into almost all vehicles.
● Trent h13 headlight bulbs plug is 100% the same as OEM halogen bulb.
● With Non-polarity electronic system, Titan auto headlight h13 bulbs kit can be mounted into vehicle power source directly, consumers don't need to check the polarity before installation.
● LED headlight bulbs exterior driver box with constant circuit system (Stronger CANbus), fits more vehicles without flickering issue.
Product Detail:
        • Product: led headlight conversion kit                                                     • Power: 34W/bulb                                                                    • Heat dissipation: Aluminum + Copper PCB+ Fan


        • Application: led headlight for car                                                           • LED chip: Taiwan LED                                                            • Cetification: CE & RoHs


       • Voltage: DC12~24V installation                                                             • Color temperature: 6000~6500K                                             • Warranty: 16 months